Rubondo Island
National Park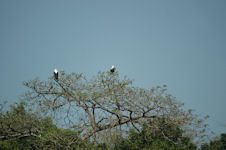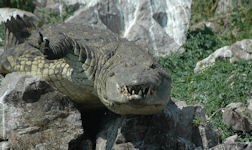 Enlarge Photo by clicking
--A pair of fish eagles guards the gentle bay, their
--distinctive black, white and chestnut feather
--pattern glearning boldly in the morning sun.
--Suddenly, the birds toss back their heads in a
--Piercing, evocative duet.
--On the rocky bank below, a well-fed and five
--meter long monster of a crocodile snaps to life,
--startled from its nap. It stampedes through the
--crunchy undergrowth, crashing into the water in
--front of the boat, invisible except for a pair og
--sentry-post eyes that peek menacingly above
--the surface to monitor our movements.
Rubondo Island is tucked in the southwest corner of
Lake Victoria, the world's second-largest lake, an inland
sea sprawling between Tanzania, Uganda and Kenya.

The national park has a number of indigenous mammal species - hippo, vervet monkey, genet and mongoose - which share their protected habitat with introduced species such as chimpanzee, black-and-white colobus, elephant and giraffe, all of which benefit from Rubondo's inaccessibility. Rubondo also protects precious fish breeding grounds.

Ninety percent of the park's 457 km2 (176 sq miles) are humid forest; the remainder ranges from open grassland to lakeside papyrus beds. Exact location: 02'18'08 S 031'51'62E - 150 km (95 miles) west of Mwanza.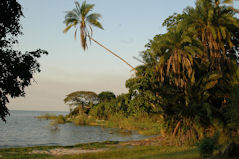 All photos by: Hans Krisotoffersen/Mwanza guide 'online' (Copyright 2010)