Copyright 2003 - 2017 by Hans Kristoffersen/Mwanza Guide 'Destinations in Tanzania Ltd. P.O. Box 5204 Mwanza, Tanzania. All rights reserved.
Mwanza - the gallery
Mwanza - Rubondo Island National Park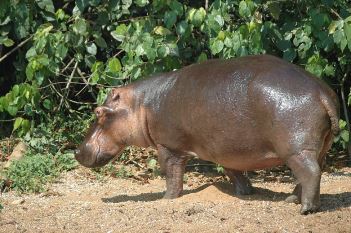 Hippo (Hippopotamus amphibius)

Hippo, from the ancient Greek for "river horse", is a large, mostly herbivorous mammal in sub-Saharan Africa, and one of only two extant species in the family Hippopotamidae (the other is the Pygmy Hippopotamus.) The hippopotamus is the third largest land animal (after the elephant and the white rhino) and the heaviest extant artiodactyls*), despite being considerably shorter than the giraffe.
*) Even-toed ungulates.