How to get there
- by public transport and/or private car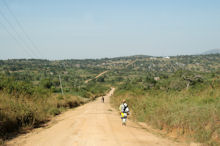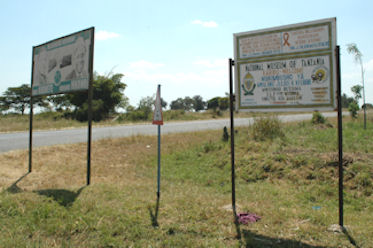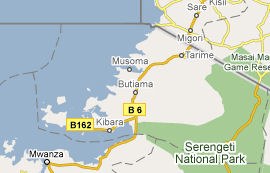 The village of Butiama is located in Musoma Rural district in Tanzania's Mara region, bordering Lake Victoria. Musoma, the regional capital is 40 kms from Butiama, about 40-minute's drive.
Access by public transport is easiest from Musoma, from where daladalas (minibuses) run every hour or two.
If you are driving by private car/taxi from Musoma, head along the sealed road towards Mwanza. Ignore the first signposted junction to Butiama (which leads you along 17 kms of bad/very local road, (photo to your right)) but take the second instead, leaving you with only 11 kms of tarmac road. When in Butiama Village - ask at the army base just before the museum - and the curator will come to let you in.
Mwanza, the principal municipal centre of the Lake Victoria region is located 190 kilometres from Butiama, or about three hours (+/- something) drive by car.
From Musoma turn left at this sign - from Mwanza turn right
Regional map - by google Maps