Accommodation
- at The JKN Hotel
Two additional rooms (the Heritage rooms) with double beds are available in one of the former residences of Mwalimu Nyerere, the
The JKN Hotel (Butiama) is located in the village of Butiama, at Mwitongo, the homestead of Mwalimu Nyerere's father, Chief Nyerere Burito. Adjacent to the hotel is the Muhunda forest, rich in indigenous trees and plant species, as well as various bird species and velvet monkeys.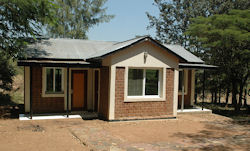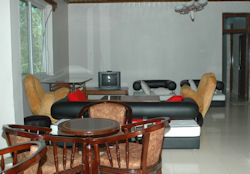 Accommodation
The hotel offers en-suite accommodation housed in the main building that comprises four bedrooms, and two chalets that provide three rooms each. There are four rooms with double beds and six rooms with single beds. All rooms have television with satellite channels.
CCM Heritage Building. A proportion of the proceeds collected from these two rooms goes towards costs of running the Mwalimu Nyerere Memorial Library.
Food and Beverages
Food and drinks are provided within a homely atmosphere, and features continental dishes as well as local specialties.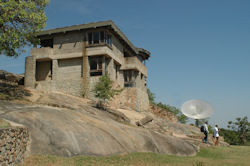 Rates:
Bed & Breakfast: Single US$20 and Double US$30.
Heritage rooms: US$100 each including breakfast.
The two Heritage rooms are located in the CCM Heritage Building (photo to the left), which offers breathtaking views of the surrounding countryside and Lake Victoria to the West.
Booking/enquiries: butiamabooking@mwanza-guide.com