Facilities and activities
Gift shop (and reception)
A small, exclusive gift-shop focuses on regional art and handicraft. We buy straight from the artisans. This helps the local economy directly and they are encouraged to find more efficient, and quality-conscious ways to make their products.
We also sell articles from local women groups, like the Vema Women (Vema is a Swahili word for well being) organised by the Maryknoll Sisters.
Restaurants and bar
Three separate round buildings are joined by a large terrace, which overlooks Lake Victoria. There is a well-stocked bar with a good choice of South African wines. The restaurant offers a blend of international and Tanzanian cuisine; and is specialised in fresh fish from the lake and uses vegetables and fruits from the local fields.
The owners have trained the staff, and the quality and refinement that has been achieved, will surprise you. Also here, the size and set-up guarantees plenty of personal attention. There are no large buffets; each client can make his or her choice, and the staff will be happy to cater for your special wishes and diets.
Your breakfast or lunch can be served on the terrace of your bungalow at any time you wish, or a table will be set for you on the terrace of the restaurant or in the garden.
Mountain bike trips
Venture out into the heart of Sukumaland by mountain bike. In the Masamba Hills the only means of transportation is a bicycle. That is why there are numerous small tracks and no cars. It gives a good picture of what most of Tanzania still looks like 'off the beaten track'. The guided trip takes about four hours and is best taken in the (late) afternoon.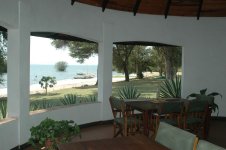 © 2008 Mwanza Guide "ONLINE"