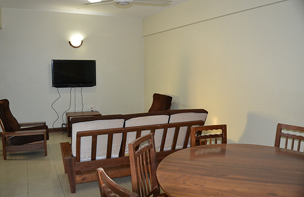 Facilities
The apartment:
3 bed rooms (one with twin beds) with fans.
3 bath rooms with shower and (western style) toilets.
Huge sitting room with fans and a 40" flat screen TV.
Dining room in connection to the sitting room.
Very nice kitchen with all facilities.
3 balconies with a fantastic town-/lake view.
The building:
Lift/elevator.
Safe car parking.
Back-up generator.
24-hours security.
Public transport at the gate
Location:
One km from the city centre and 9 km to the airport.
Rent:
Depending on the number of people staying. Please enquire. (Three persons or two families can easily share). Nyanza Building booking form.
Further information/contact:
Please call us for further information at +255 766 636286 or mail:
nyanza@mwanza-guide.com