Go for the BIG fish
Fish for Tilapia near the shores - or cruise around Lake Victoria by trolling for Nile Perch in our fully equipped and modern fishing boat.

Trolling with lures is the main method of fishing for Nile Perch on the lake - with drift and live bait fishing as an option.

All equipment and lures for Nile Perch trolling are supplied, but anglers are free to bring their own, especially lighter equipment for Tilapia.

The boat is fitted with life jackets and a mobile phone is also carried onboard for safety reasons.

FISHING CHARTER RATES:

HALF DAY:355,000/= TSH
- ALL inclusive for one to four anglers - insurance included.

NOTE: Fishing charters are dependent upon availability and weather conditions.
Booking: safari5@destination-mwanza.com
Inquiries: +255 766 636286 (9AM - 7PM)
Open and/or print out: Fishing Safari Facts
.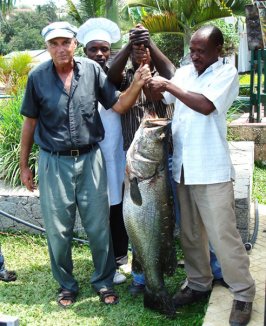 Go for the BIG fish
SAFARI #5