Serengeti National Park and Ngorongoro Crater - are both declared 'UNESCO World heritage sites'. Ngorongoro Crater is the largest unbroken caldera in the world and covers about 250 km2. The crater is located 2.500 meters above sea level - surrounded by very steep walls rising 600 meters from the crater floor. It's home for more than 20.000 animals, almost half of them being wilderbeest and zebra, but also 'The Big Five' - the Lion, the Elephant, the Buffalo, the Rhino and the Leopard are all to be found here.
Day 1:
Our driver/guide will pick you up at your hotel/address in Mwanza and drive straight to Serengeti National Park. We will find a nice spot in the park and enjoy our lunch box.
After registration we will enter the park for game viewing until evening hours. We will drive to the camp for dinner and overnight stay at Serengeti Wild Camp (Photo to your left).
Day 2: After breakfast you will pack your belongings and we will start drive slowly en route game drive to Ngorongoro Conservation Area.
If interested we will stop at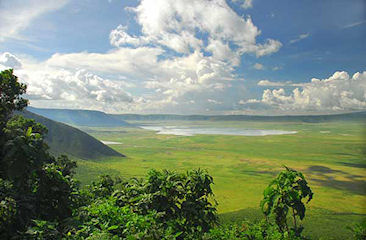 a Masai village (option) or proceed up to the view point of the crater. After explanation we will start driving down the crater for another game viewing until evening time. Before dark we will drive to the lodge for dinner and overnight stay at Ngorongoro Rhino Lodge.
Day 3: When we have finished our breakfast at the lodge you will pack everything and we will start our drive back
3 days Camping Safari
to Serengeti National Park
and
Ngorongoro Crater
- with start in Mwanza and drop off in Mwanza.
This safari is operated by One-Way Tours and Safaris for Mwanza Guide - Destinations in Tanzania Ltd.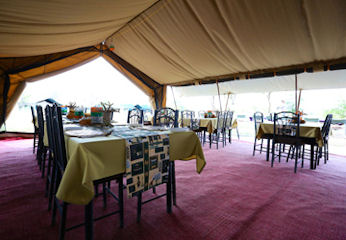 to Mwanza via Serengeti. We will stop on the way when we spot something interesting - and we will. We will drop you at your hotel/address in Mwanza after arrival.
*) Please notice, that there can be small changes in the on safari due to this program - if some of the campsites/lodges are fully booked.