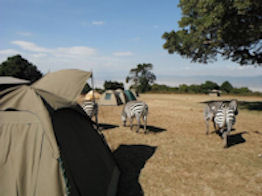 5 days Camping Safari to Serengeti National Park - plus Ngorongoro Crater, Tarangire and Lake Manyara National Parks - with start in Mwanza and drop off in Arusha (or opposite).
This safari is operated by One-Way Tours and Safaris for Mwanza Guide - Destinations in Tanzania Ltd.
Day 3: After breakfast we will carefully move down in the Ngorongoro Crater (6 hours permit) - a 250 sq km wide and 600 meter deep caldera.

The crater alone has over 20.000 large animals including some of Tanzania's remaining black rhinos. Ngorongoro Crater is also an UNESCO World Heritage site. Dinner will be served at our campsite outside the park.
Serengeti National Park - Tanzania's first and most famous park is renowned for its wealth of leopard and lion. The vast reaches of the park are a hiding place for the endangered black rhino and provide a protected breeding ground for the vulnerable cheetah, alongside the Serengeti's thousands of other diverse species. Serengeti National Park is an UNESCO World Heritage site.

D
ay 1:
We will pick you up at your hotel in Mwanza early in the morning and drive towards the Ndabaka Gate to Serengeti National Park about 135 km and about 2½ hours drive from Mwanza. It's a very nice trip - you will have the beautiful Speke Bay on your left hand side most of the way and you will pass through nice small villages such as Igoma, Kisesa, Nyanguge and Lamadi on the way to the western gate to the park. We will have our lunch soon after arrival somewhere there and then we'll take an afternoon game drive. Dinner will be served at the campsite of our first night in Serengeti.
Day 2: After an early breakfast, we will do another day of game drive in Serengeti. We will find a nice spot to relax and enjoy our lunchbox somewhere there. In the afternoon we will do en route game drive to Ngorongoro. Sundowner, dinner and overnight at our campsite within Ngorongoro Conservation Area