You can come for a half day's (or a full day's) fishing safari for Nile perch on any day of the year. We will collect you from your hotel and drive you to where the boat is waiting.
Our experienced English speaking fishing guide will captain our modern fishing boat equipped with a powerful Suzuki outboard motor.
We will provide you with fishing rods, reels and a box of lures - and of cause life vests plus insurance for all.
We are offering fishing safaris: Half day (four hours) - or full day including a lunch break on an island nearby. A nice lunch box and cold soft drinks/local beer will be provided on the full day fishing safari.
Half day (from 8:00 AM) - max four people with two anglers.*)
Half day (from 4:00 PM) - max four people with two anglers.*)
Full day (from 8:00 AM) - max four people with two anglers.*)
Note: Fishing charters are dependant upon availability
and weather conditions.
Tip: At many hotels in Mwanza the chef will be happy to
cook/roast/grill/prepare the catch for you.
Please make an arrangement with her/him in advance.
Duration: Four/eight hours+.
Further information please call:
+255 766 636286 - +255 714 204013
Or mail us at:
citysafaris@mwanza-guide.com
Please write 'Fishing Safari' in the subject line.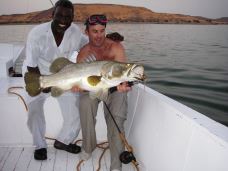 Fishing safari on Lake Victoria
- go for your own big catch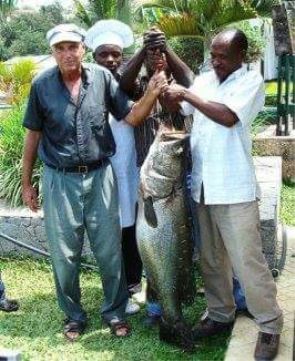 The Nile perch was introduced to Lake Victoria by the British in the 1950s and has since been fished commercially.
Note: The introduction of this fish to Lake Victoria is one of the most cited examples of the negative effects invasive species can have on ecosystems, but the long term outlook is still unclear. *) At the same time.