Mwanza Airport
is located 10 km from the city centre - and Precision Air has daily direct flights from Mwanza to Arusha (Kilimanjaro), Bukoba, Dar es Salaam and Nairobi (Kenya) - plus Kigoma several days a week. Precision Air is connecting Mwanza via Dar es Salaam to Hahaya (Comoros Islands) - plus domestic destinations as follows: Tabora, Musoma, Mtwara, Pemba and Zanzibar.
Air Tanzania (ATCL) is back on the Mwanza - Dar es Salaam route with daily flights.
Photos by: Hans Kristoffersen
Mwanza
The Capital of Sukumaland

Mwanza is Tanzania's second largest town and the economic heart of the Lake Region. Mwanza is located in the extreme northern part of Tanzania Mainland dominated by Africa's largest lake - Lake Victoria.
Geographically, Mwanza lies between latitudes 1° 30' and 3° 0' south of Equator. The location - on the southern shore of Lake Victoria and the altitude - 1,134 m above sea level - ensures a fresh breeze, a very friendly humidity and a nice temperature throughout the year.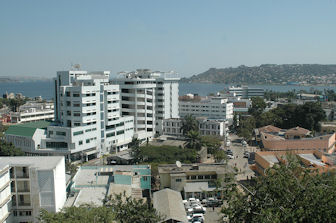 The town looks onto the lake, which includes dramatic views of the Bismarck Rock - a massive outcrop of granite rocks (The background picture and trademark of this website). Mwanza is an important crossroad of the region - including several bus routes to Dar es Salaam and Nairobi (Kenya) - plus a busy port with ferries to Ukerewe Island and Bukoba - with connections (by bus) to Uganda, Burundi and Rwanda.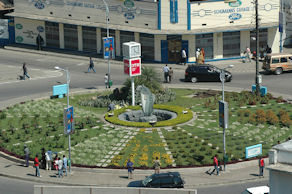 The very fast growing Fastjet is flying to and from
Dar es Salaam several times a day. From Dar es Salaam has Fastjet routes to Entebbe (Uganda), Johannesburg,
Zimbabwe, Kenya and Zambia - plus domestic routes to Arusha (Kilimanjaro), Mbeya and Zanzibar.
Coastal Air is flying daily from Mwanza Airport to Arusha - via Serengeti. Coastal Air is - together with Auric Air also a serious operators - serving the mining areas around Mwanza and with charter flights to the islands in Lake Victoria - e.g. Rubondo Island.

Mwanza is arguably the fastest growing settlement in Tanzania; with substantial growth in financial, industrial and local investment sectors. However, the economy of the city; and the region, as a whole, is dominated by smallholder agriculture employing about 85 percent of the region's population and complemented by an expanding fisheries sector.
It is believed that fisheries activities in the region lead in terms of foreign exchange earning contribution to the region's economy. Commercial fishing is carried out by big fishing companies using modern fishing gear and vessels. Agriculture takes second position followed by mining in recent days. Maize, cassava and sweet potatoes constitute about 71 percent of all food crops grown in the region.
The growth of tourism has come from a vast beauty of its surrounding area and its proximity to the various national parks - and Mwanza is a convenient starting point for trips to the islands in Lake Victoria - e.g. Ukerewe, Ukara and Rubondo and/or through the world famous Serengeti National Park - only 2½ hours drive by car from Mwanza.