Copyright 2003 - 2017 by Hans Kristoffersen/Mwanza Guide 'Destinations in Tanzania Ltd. P.O. Box 5204 Mwanza, Tanzania. All rights reserved.
Mwanza Guide - the Gallery
Mwanza - the wildlife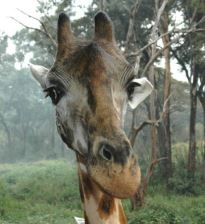 The wildlife is one of Tanzania's major
tourist attractions.
Almost all animals are found in Tanzania's
17 national parks, spread over an area of
more than 42,000 km2 (16,000 sq mi).
Best known park is Serengeti National Park, the second biggest national park
which covers 14,763 km2 (5,700 sq mi). The western gate to the park - Ndabaka Gate is located only 135 km from Mwanza.
Please check our safaris to the world famous park at: Safaris to Serengeti National Park.
Rubondo Island National Park
is located in Lake Victoria - only 150 km (93 mi) west of Mwanza. It includes nine smaller islands and the national park is known as a 'water wonderland'. Please check our safari to Rubondo Island National Park:
Rubondo Island safari.
The smallest national park is located near Mwanza - only 15 minutes in a boat from Mwanza's Capri Point - Saanane Island National Park. Not many animals are found here, but it's a very nice place for a walking safari on a sunny day.