By international routes to Tanzania
International flights to Tanzania are handled by Mwalimu Julius K Nyerere International Airport in Dar es Salaam, Kilimanjaro International Airport (near Arusha) and Zanzibar International Airport. The airport in Mwanza handles so far domestic and some regional flights only.
International carriers serving Tanzania and the region are British Airways, Oman Air, Emirates Airlines, Etihad Airways, Qatar Airways, Egypt Air, Turkish Airlines, Ethiopian Airlines, Kenya Airways and KLM - Royal Dutch Airlines.
Emirates Airlines operates the youngest fleet in the world - and not only that, it's the largest airline globally measured by international passengers carried. Emirates Airlines has daily connection to/from Dubai (UAE) - and from Dubai to the rest of the world. Enjoy Emirates Airlines' Boeing 777-300 ER (photo) to/from Dar es Salaam - one of the most technically advanced airplanes in the skies.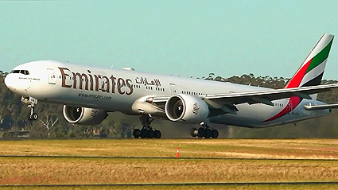 Regional and domestic flights to and from Mwanza
Precision Air
is successfully networking the entire region with a unique combination of speed, a modern fleet, convenience and reliability for both tourists
and business travellers. To/from Nairobi (Kenya), Johannesburg (South Africa) via Dar es Salaam, Hahaya (Comoro Island) via Dar es Salaam and Entebbe (Uganda) via Kilimanjaro - plus the domestic destinations Bukoba, Mtwara, Musoma, Arusha (Kilimanjaro International Airport), Dar es Salaam and Mwanza as well (several daily flights).
Visit, book and pay online.
Mwanza Office:
Kenyatta Road (Opposite Kenya Commercial Bank).
Fastjet is a new low-cost airline with ambitious plans to create Africa's first pan-continental airline, Fastjet will bring international standards of safety, quality, security and reliability. Flights can be booked online, on a mobile phone, at one of the local travel agents or with one of regional sales offices. Fastjet is flying to/from Mwanza three times a day and from Dar es Salaam to Mbeya and Kilimanjaro (Arusha) twice a day plus Johannesburg (South Africa) and Lusaka (Zambia) several times a week.



Air Tanzania (ATCL) is back on the Dar es Salaam - Mwanza route with new jet planes. Visit ATCL here.

Auric Air Services is Tanzania's preferred corporate and safari airline with a wide network of domestic scheduled services. From its bases at Mwanza Airport - Auric Air provides scheduled flights to some of the most remote and otherwise inaccessible destinations within Tanzania.
Charter and other scheduled flights - from Mwanza